RailTrends is a two-day conference for ALL of the rail-industry disciplines and stakeholders. It is attended by the financial and capital communities, owners, lenders, operators, marketers and every other group directly or indirectly affected by the rail business.
RailTrends conference content is shaped by the internal verities of the industry, timely topics, and controversial, button-pushing subjects.
Unlike other rail conferences that only address a single subject such as railcar leasing, manufacturing, MOW or bond investors, RailTrends gets you up to speed on all areas of the industry.
What RailTrends offers that is available nowhere else is a drilling down into some very specific issues - in some cases issues that you may not even know affect you - specific to the industry's future and your livelihood.
Other organizations offer single-topic conferences, but only RailTrends addresses all aspects of the industry, giving you a broader sense of what is going on.
Tony Hatch
President,
ABH Consulting
Program Consultant, RailTrends
Tony Hatch has been a senior transportation analyst on Wall Street for over twenty years, starting at Salomon Brothers; proceeding to Argus, PaineWebber, and most recently at NatWest Markets (USA) prior to becoming an independent analyst/consultant. Mr. Hatch's coverage has been focused on the freight transportation segment, particularly surface transportation. The core of this coverage has been the large cap railroads, with sub sector coverage of trucking, air freight and express, maritime, transportation suppliers, leasing companies, logistics companies and freight forwarders. Mr. Hatch is known for his knowledge of the intermodal arena, where the various modes of freight transport converge, on which he has held a dozen specialized conferences.
Mr. Hatch believes the future direction of surface transportation depends on a combination of the outsourcing/logistics movement and further intermodal development. He also believes that investors, sidetracked by historic valuations, do not fully appreciate the emergence of the "railroad renaissance", a phrase he coined when analyzing the promise of the pre-consolidation period. It is his thesis that in the new millennium, railroads will operate more efficiently, produce consistently high returns and regain customer confidence and market share.
Since the closing of NatWest, Mr. Hatch has been active as an independent analyst and consultant, doing work for several major railroads such as CSX, Union Pacific, BNSF, Kansas City Southern, Canadian National and many other companies. In addition, he plays an active role in the development and recruitment of speakers for RailTrends; a two-day summit sponsored by Progressive Railroading magazine that focuses on trends in the railway industry.

Stephen Bolte
Publisher,
Progressive Railroading Magazine
Steve has been in the railroad industry for 34 years and with Progressive Railroading Magazine for 14 of those years. He has been Publisher for the past 12 years. Before the magazine he was on the supply side of the rail industry working for Dwight & Wilson Company for 20 years. While there he held various production, sales, sales management positions, including the past three years as President of the Company.
Steve serves on many industry association Board of Directors such as the Railway Systems Suppliers, Inc. (Past President), Association of American Railroad Superintendents, National Railroad Construction and Maintenance Association (invited member), Railway Supply Institute (invited member), and Railway Engineering-Maintenance Supply Association (invited member).
Given his industry sales experience to the Class I Railroads, Shortlines/Regional Railroads, and Transit Agencies he is able to give advertisers a unique insight in the railroad purchasing process.
Progressive Railroading Magazine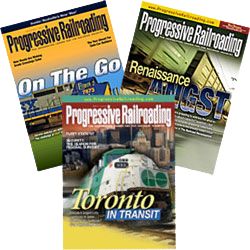 The Progressive Railroading brand aims to put a range of freight and passenger rail industry issues and trends — from new-business development to business-process change to the technology evolution — into clear, concise and current context for 25,000 North American railroad executives and managers. In addition to RailTrends, our information vehicles include Progressive Railroading, a magazine that is published monthly; ProgressiveRailroading.com, a website featuring news, web-only articles, webcasts, audio interviews and video features; Progressive Railroading's Daily News, a daily news wire; HSRupdates.com, a subscription-based information service dedicated to high-speed rail coverage; and two annuals — the Car & Locomotive Yearbook & Buyers Guide and the Track Yearbook & Buyers Guide.